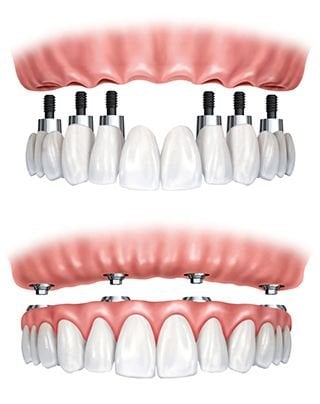 If you are missing an entire arch of teeth due to injury or disease, whether it's your lower or upper arch, it is possible to replace that arch with implant dentures. Implant-supported dentures are dentures fixed to the gums by mini implants. For patients with an uncomfortable or loose-fitting denture, stabilizing it with mini implants can be a more comfortable and functional solution. Implant dentures are the preferred choice over removable dentures because they look and act just like natural teeth, they don't fall when you're eating or talking, they prevent bone loss in your jaw, and they last a very long time.
How do implant dentures work?
Your dentist will begin by numbing the area where your implant dentures will be placed. They will then place mini implants first and securely anchor them in the surrounding bone.
Attachments are placed in the underside of the denture, which connect to the implants themselves. When the whole denture is placed in your mouth, the denture snaps onto the implants and keeps the denture stable.
Depending on how many implants are needed, the implant dental surgery can take one to three hours. Post-surgery discomfort is common but can be managed with over the counter anti-inflammatory medication, though some patients don't even need it.
You will need to take it easy on your new implant dentures for a while after they are placed. Your dentist will advise you to eat soft foods, nothing crunchy or chewy, until your healing process is complete. It may take up to three months to heal.
Benefits of Implant Dentures
The process of getting your implant dentures is indeed worth it. Implant dentures offer many great benefits that will last you a lifetime:
More confidence when you talk, laugh, and eat in public
More comfort since they are secure and feel like natural teeth
They look just like natural teeth
Prevents jaw shrinkage and bone loss
No need for denture adhesives